About This Site
---
The County and the Kaiser is:
A blog about Genesee County, New York and its people during and after World War I.
 An Honor Roll of Genesee County's WWI casualties, with biographical profiles and source documents about each individual.
 A "My WWI Relative" section, to be added as contributions come in, where you can honor your Genesee County relative's participation in World War I.
Background:
Several years ago I began researching the World War I career of my grandfather, Stanley M Crocker of LeRoy (my home town), in Genesee County, New York. Eventually that work evolved into a six-year project researching, documenting, and writing about the men and women from Genesee County who died in service during the war.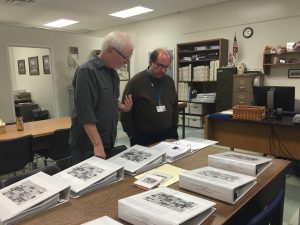 Just before Memorial Day in 2015, I delivered that Honor Roll project—all eight binders, 100,000 words of biographical text, and 1,200 military documents—to the Genesee County History Department.
I knew my work wasn't finished, though. While researching Genesee County's war dead, I'd also learned a lot about goings-on in the county during the war, and about the many county soldiers, sailors, marines, and other personnel who served and survived.
I decided to create this site to tell the stories not only of the county's casualties, but of its other veterans as well, and of how the people in a small rural county in western New York responded to the country's call to defeat Germany's Kaiser and his allies in The Great War.
Updated periodically, the blog follows and relates local news stories from the time to the sweeping, world-altering events of The Great War, 100 years later.
This is the online version of my honor roll project, "To End All Wars: The Men and Women of Genesee County, New York Who Died in Service During WWI."

It includes all the biographical profiles and many documents and other sources from the full version, which is available for viewing at the Genesee County History Department in Batavia, New York.
To learn more about the project and its background, you can read this article about me and my work on the United States World War One Centennial Commission's website:
http://www.worldwar1centennial.org/index.php/communicate/press-media/wwi-centennial-news/1711-krautwurst.html
You can also read these articles from the Rochester Democrat & Chronicle and The Batavian:
http://www.democratandchronicle.com/story/news/2015/05/25/genesee-county-wwi-terry-krautwurst/27922611/
http://www.thebatavian.com/howard-b-owens/former-le-royans-research-brings-to-life-memories-of-genesee-countys-great-war-dead
About 1,400 men and women from Genesee Cou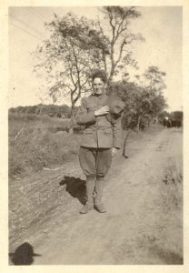 nty served in the military during the war, and many others served in supporting organizations and civilian roles. It's my hope that their present-day descendants will come forward to share their relatives' stories with photos, documents or other information.
I'd be proud to include any soldier, sailor, marine, nurse, or other participant in the war among the listings on this site honoring those who served from Genesee County. Just contact me.
About Me: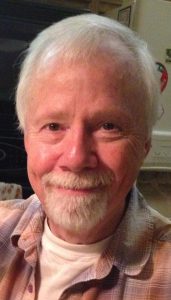 My name is Terry Krautwurst. I live in North Carolina now, but I grew up in LeRoy, New York, and graduated from high school there. I still consider LeRoy and Genesee County my home.
I've spent most of my life as a writer—advertising copywriter, book author and editor, magazine writer and editor. I used to write mostly about nature, science and the outdoors for books and for magazines such as National Geographic Kids, Backpacker, and Mother Earth News. A few years ago I stopped writing for a living, and now spend much of my "retired" time researching and writing about whatever I find  interesting. For  the past several years I've focused on the roles my home county and its people played during World War I.